digital artist | streamer
---
Terms / Commission info
-
hello! i would appreciate if you read though these terms carefully as it has lots of important information about what to expect from commissioning me.any questions or clarifications please message me on Twitter
-
what i can do
i like to draw cute girls and i'm heavily inspired by anime~i have clear examples of art on the prices page - if you are expecting anything outside of my exampled style the results may not be to the same standards and I may not accept your commission.Will Draw
i'm most comfortable with these- feminine characters
- cute boys
- anime fanart
- original characters/VTubersMight Draw
not much examples/experience, i'm happy to give them a go, but i can't guarentee it'll be up to standards. commission at your own discretion!- adult males
- pets + quad/anthro furries
- simple backgrounds
- weapons/light armour
- mild blood/gore
- mild NSFW (eg. implied nudity)Won't Draw
pretty self explanatory.- extremely outside of my general style
- realism
- elder characters
- extreme muscular/GAR characters
- mecha/vehicles
- NSFW (explicit nudity, sex, violence, extreme gore, etc)
- fetish
- hateful ideologiesi have the right to decline commission requests outside of this list at my own discretion.i may also decline if i believe i can't fulfill your request to the standards that is expected of working with me. please do not take it personally.
-
commission process
commissions typically take up to a month to complete. if i have a commission backlog, or unexpected commitments offline, I will be sure to let you know if there could be a delay prior to payment!real-life problems can happen but i will do my best to contact in-progress commissioners ASAP if any sudden delays happen!
- if you are after emotes please use my emote commission form
- for any other commssions please DM me on twitter (@taximals_art) with the type of commission and what you are after, make sure to include references for your character and what kind of pose/additional details/etc.
- i will confirm the pricing and send an invoice via Paypal, once payment is received i will start on the sketch
- once sketch is completed i'll send it to you for approval, and will make any changes requested. once you've approved the sketch i will move on to finalizing the commission.
- finalized commissions will be then sent though Dropbox, any minor adjustments such as colour changes will be fulfilled if required.
-
Terms
- i hold the rights to the commissioned artwork which allows myself to use commissioned artwork as promotion of myself, use in commission examples, social media posts, etc. (private commission requests will be respected and not displayed publicly if discussed prior to payment)
- commissions are for personal use by the customer. this includes, icons, wallpapers, social media posts, personal print-at-home use. if you have any questions for your intended use please ask!
- commissioned work is for use only by the commissioner and ownership shall not be sold, given away, or traded.
- any reproducing, heavily editing, or tracing commissioned artwork is not allowed.
- use of the commissioned work requires visible credit such as "Art/Icon/Emotes by taximals" and linked back to my Twitter or website, and be clearly visible in your about section, bio, description, tweet etc.
- Twitch Emotes require Emote Attribution credit. (Badge is not required)
- you are not allowed to sell or profit off commissioned art as prints, merch, t-shirts, etc. (unless you have paid for merchandise use - see below)
- merchandise use does not cover NFTs (non-fungible token). absolutely no NFT minting is allowed.
-
merchandise use
if you want to sell commissioned artwork as prints, merch, t-shirts, etc. or any other way that earns you money, it MUST be requested at the time of commissioning.merchandise license will double the price and you will be provided with the uncropped files in higher DPI format and gain full merchandise rights to your images.
-
refunds
please be sure what to expect of a commission from me, clear examples of my work are given on on my social medias and my website. i offer revisions to my sketches to make sure you are satisfied before i move onto completion.please be advised that PayPal's system does take a fee per transaction, once payment is made, that portion is theirs and i can not refund their cut. (info here) refunds will be provided based on my cut of the payment.- prior to receiving a progress sketch, If you change your mind or need to be refunded, contact me and the full price will be refunded.
- after you receive the progress sketch, if changes can't be be fulfilled or we can't come to an agreement I will offer a 20% refund.
- after you have approved the sketch i will move on to finalizing the commission and there will be no option for refunds.i also have the right to cancel and refund the payment should there be any major disagreements or i feel i can not fulfill your commission.any charge-backs after completion will revoke any rights of usage of previous commissions, and will be forbidden from commissioning me again.
your social media will also be displayed/blacklisted as a warning to other artists.
-
PRICING
-
prices are in AUD
payment is taken through PayPal only
PayPal currency conversion rates aren't consistent so i can not give you a exact quote in any other currency - please keep this in mind!
-
emotes
if you are looking for emote commissions please go to my separate information page HERE
---
RETRO ANIME BUST-UPS
comes shaded with simple flat background,
filtered to look retro, and cute shoujo textures~
$60 AUD
per character
---
chibis
comes shaded with simple flat background
$40 AUD
per character
---
BUST-UPS
comes shaded with simple flat background
$40 AUD
per character
---
thigh-ups
comes shaded with simple flat background
$60 AUD
per character
---
full-body
comes shaded with simple flat background
$100 AUD
per character
CLOSED
---
Emote Commissions
-
EMOTE COMMISSION FORM
after submitting a commission form, please tell me via DM on Twitter!
-
hey thanks for considering me for your emotesplease make sure you read my terms linked above in addition to the information on this pageemotes work best with simple ideas/designs! don't expect to fit a full body drawing inside an emote! this also goes for emotes with text/signs, usually short words work best! (eg. HYPE, OMG, RAID, etc)
-
---
prices
prices are in AUD
payment is taken through PayPal only
PayPal currency conversion rates aren't consistent so i can not give you a exact quote in any other currency - please keep this in mind!1 Emote is $17
5 Emotes are $80these are base prices for emotes and does not include additions!some additions include:
+$8 for animation layers (see animated emotes)
-
animated emotes
if you are interested in commissioning animated emotes, i have worked with and recommend Alkanimation - please make sure you read though their ToS also!to prepare layers for animation it will be an extra +$8 AUD per emote!as animation is a process which requires me providing layers to the animator, please contact both of us so we can properly work together.this price and payment is only for my side of the commission, you will also have to contact and commission your selected animator in a separate payment.*** NOTE: for previously completed emotes, i will not be providing animation layers after the commission is complete, doing so will require me to completely redraw the emote!
-
---
YCH Emotes
I also offer YCH (your character here) emotes at a discounted price, they will only be open sporadically through my ko-fi, please keep an eye on my twitter to see when slots are available.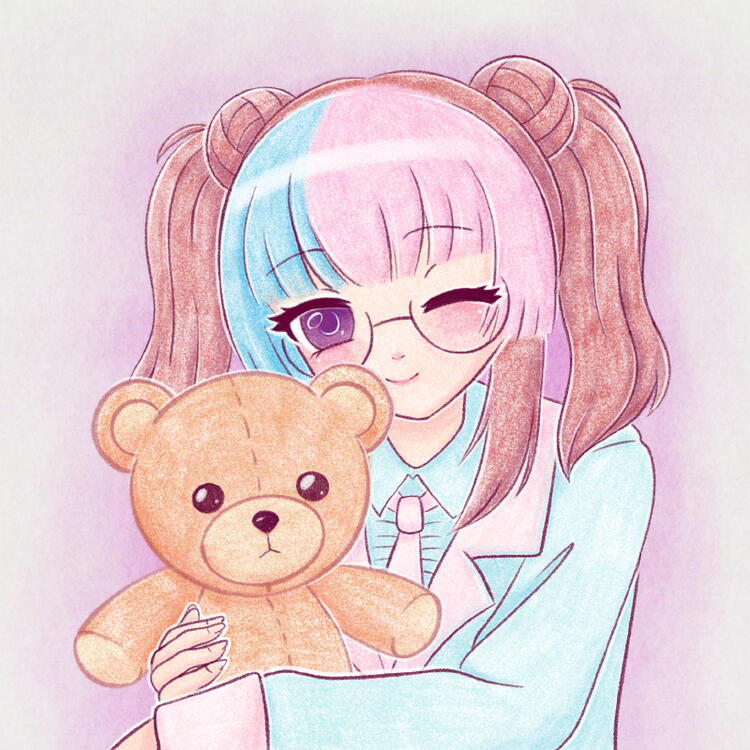 ---
what you get
emotes are provided as transparent .PNG files in 3 sizes required for twitch upload (112x112px - 56x56px - 28x28px)files will be provided though Dropbox link - it is your responsibility to save these files as i will not be responsible to host them for forever due to storage limits.
-
commission process
commissions typically take up to a month to complete.
if you are after a bulk commission order, if i have a commission backlog, or unexpected commitments offline, I will be sure to let you know if there could be a delay prior to payment!real-life problems can happen but i will do my best to contact in-progress commissioners ASAP if any sudden delays happen!- please submit a emote commission form (link at top of page) and be as detailed as you can - after submitting a commission form please DM me on twitter!
- i will check over the form and confirm the information was submitted correctly, confirm pricing, and ask for more specific details if needed.
- i will send an invoice through PayPal, once payment is received i will start on sketch.
- once sketch is completed i'll send it to you for approval, and will make any changes requested. once you've approved the sketch i will move on to finalizing the emotes.
- finalized emotes will be then sent though Dropbox, any minor adjustments such as colour changes will be fulfilled if required.
-
YCH PNGTUBER Commissions
-
hiya here's my information of PNGtubers/reactive images!
-
prices
prices are in AUD
payment is taken through PayPal only
PayPal currency conversion rates aren't consistent so i can not give you a exact quote in any other currency - please keep this in mind!Headshot - From $60 AUD
Full-Body - From $80 AUDadditions include:
+$10 simple movement on blink (example below)
---
what you get
As these are a YCH (your character here) you will receive the same pose, style as the examples below.
Size is dependant on what service you purchase, but you will receive 4 frames and animated GIFs that make up the PNGTuber- 2 eye open frames
- 2 blink frames
- 2 GIFs of them animated
---
VeadoTube Mini Guide
I highly reccomend using VeadoTube Mini for use with these PNGtubers! heres a quick rundown guide on how to set them up:Following left to right, put these image files in the frame slots shown below
| | | | |
| --- | --- | --- | --- |
| 1. Face1_default | 2. Face1_animated | 3. Face2_default | 4. Face2_animated |
the results should have the vtuber blink sporadically and open and close their mouth when your microphone is detected.
-
Usage Terms
- price includes full streaming rights
- price DOES NOT include merchandise use, you may not create merchandise or prints to sell. (print-at-home personal use is fine, as long as you don't earn money.)
- usage requires proper credit on your streaming platform
- you may not re-sell, giveaway, or trade this model. use is only for the commissioner.
- No NFT minting with this image allowed.
-
commission process
commissions typically take up to a month to complete. if i have a commission backlog, or unexpected commitments offline, I will be sure to let you know if there could be a delay prior to payment!real-life problems can happen but i will do my best to contact in-progress commissioners ASAP if any sudden delays happen!- only once payment is received will i start the commission
- once sketch is completed i'll send it to you for approval, and will make any changes requested. once you've approved the sketch i will move on to finalizing the model
- finalized model will be then sent though Dropbox, any minor adjustments such as colour changes will be fulfilled if required.
-